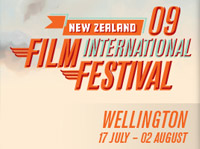 Currently on in Wellington is the New Zealand International Film Festival. Shib!
Tonight I was lucky enough to get a seat for Sundance winner 'An Education' based on the memoirs of Lynn Barber. The first draw card was not the fact that it was about a 'student in love with all things French', but the fact that the screenplay had been written by Nick Hornby.
Hornby's novels 'Feverpitch', 'High Fidelity' and 'About A Boy' have all been made into films, and the latter two have also held my attention in the initial literary form as well. Colin Firth, John Cusack and Hugh Grant have all been able to act out Hornby's, well, typical male characters.
The bumbling, the feebleness, the whining, the justifying: all of his characters are hilarious, and remind us all of who really wears the trousers in places all over the world…he seems to have a knack though of still making the male out as the hero (or anti-hero?!) at the end of the day…funny that hey? I think it's the fact that Hornby lets us know that he's a bloke. And men are useless sometimes. And they hear us ramble on (I just got Ross from 'Friends' in my head after he falls asleep reading Rachel's '18 page letter….FRONT AND BACK'…), so they simply zone out. We all know this! But Hornby seems to convey this through his writing in a way that is factual, commenting on human nature/nature of our genders and encourages us to embrace the stereotypical vices of men and women.
Nick Hornby's right on the money, droll…sorry can I just pause here and say it is so hard to review 'An Education' with 'Grey's Anatomy' on at present! I can barely see my computer screen, it's very, very emotional. Izzie's gone bald but Alex is nothing but tender because he loves her! Hunt is holding out hope for Christina despite jilting her, literally and psychologically, and Derek and Meredith seem to have gone back into the honeymoon phase with some sort of balloon clad, streamer ridden, warm fire roasting lounge and a couple of blankets keeping them modest. They both look into each other's weepy small eyes, take in each other's crop of floppy hair and you can just tell they'll be together forever. And also…the final next week? Seriously? Winter just stretched ahead much longer than I cared to think…
So Hornby's droll writing, takes on society and men and women, and the rites of passage we all go through are cleverly articulated once more in 'An Education'. I suppose in a way you're more intrigued from the outset about an older man cavorting around the West End in Swinging 60's London with a school girl,
but Peter Sarsgaard does it rather well as David. I was quickly put into place with my suspicions of him and convinced that Jenny (played by Carey Mulligan) was that exception to the rule- there was a presence about her and despite being confident without worldliness, it was her education that substituted this well, especially when she realized she was in the company of rather materialistic people. Alfred Molina (Dad) was amazing, seamless with Hornby's screenplay I reckon in his portrayal of a British suburban father with a very traditionalist approach to women. You can tell Hornby had a major hand in this film, and it makes it. I couldn't get enough of the way society was constantly commented on, the fashions and the way Jenny's hair was styled, the shots of a very familiar Oxford (Radcliffe Camera, Bodleian Library, Magadlen Bridge, a small pub we used to frequent, the Oxfordshire rural villages...) the spinster-like yet not typically austere roles of her teachers and principal (played by Emma Thompson, the 'head' goddess of acting); although you definitely pick up on some feminist traits pushing through: as above, Thompson dons one serious pastel power suit, and there has to be someone counteracting Molina's paternal instincts...
A highlight? the following:
"You know I got told recently that people won't be using the Latin language in about 50 years, so I wouldn't worry about it."
"What?"
"Yes! No one will be speaking Latin, not even Latin people, so I wouldn't worry about your B [from your exams]"
Brilliant.
On Tuesday I have tickets to see the 'In the Loop', and I am extremely excited about this. Thanks to some dear friends I have had the pleasure of being spoilt with the humour of Steve Coogan, and he is pretty much the reason I'm heading along despite him not having a huge part. This is a fairly well written, non plot revealing review
here
, but there may be some of you who know the series that the film is a spin off of BBC comedy series/satire on the British Government 'The thick of it'.
I've got a few more in the pipeline too, hopefully I can drag someone along to 'North Face'; it's about two German guys who, in the 1930's, just sifted off away from the Nazi regime and all the chaos going on and started doing hikes and intense mountain climbs in the Alps! To quote the brief synopsis given "…more edge-of-the-seat suspenseful than 'Touching the Void'…footage of young men inching up a vertical rock face (of the 'Eiger' aka 'The Murder Wall'!) proves nerve-wracking…gripping and fascinating in equal measure".
Inevitably there's a chance I'll start planning a trip to Everest once I've seen that bad boy! Here's to a great couple of weeks of films; although I missed out this morning on the final viewing for the season of 'The September Issue' (a documentary on Anna Wintour and Vogue...), so here's hoping I can swing seats to 'Valentino: The Last Emperor'...
Have a great Monday!
L.
PS. Can't believe I almost forgot this, but a worthwhile, non-fiction read is '31 Songs' by Hornby- it's his favourite songs and the reasons why he loves them, with a bit of history and interesting 'stuff' to go alongside his own thoughts. I haven't read it in years, so am now spurred on to track it down and re-read. Viva la Mix Tape/CD!